It might surprise you but when you buy a home appliance from an American retailer or a US brand, that doesn't have to mean they were made in America. The majority of appliances in our homes are, in fact, made in China. 
This has many reasons, such as low manufacturing costs, better marketing and dealer percentages and a competitive profit margin. All this also impacts the price we pay as consumers.
There are plenty of pellet grills and smokers on the market today, and some are still made in the USA. If you want an American pellet grill, because you want to support American manufacturing that can produce long-lasting grills with a good quality finish, then take a look at our list of pellet grills made in the USA.
Fortunately, there are still several American manufacturers of pellet grills you can choose from and we have more info on each below.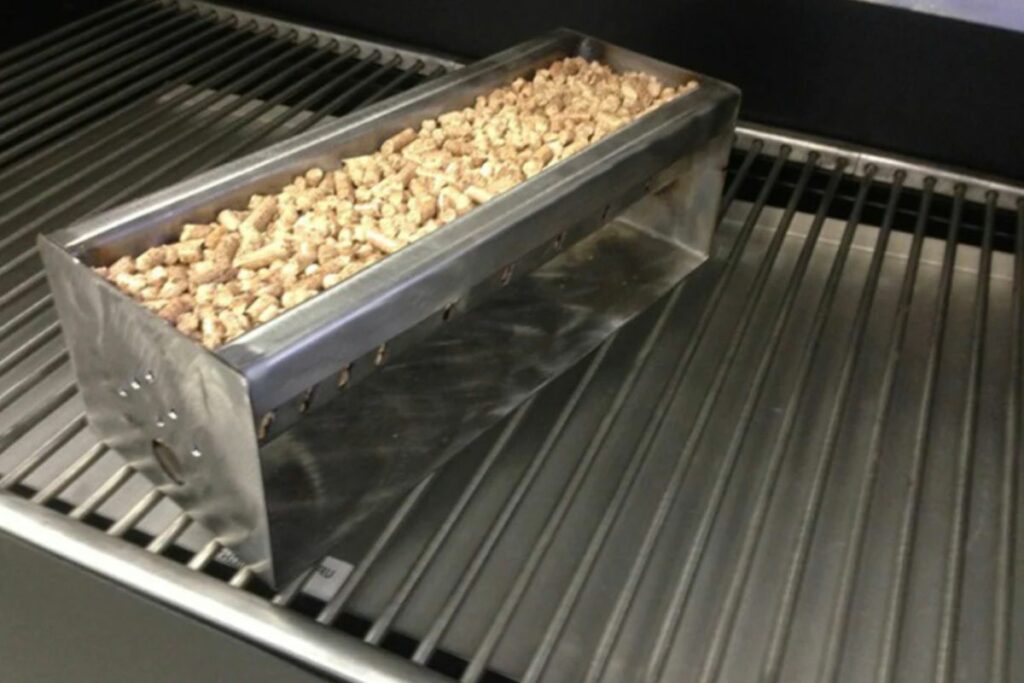 What Are Wood Pellet Grills?
A pellet grill is a kind of BBQ grill designed to work with wood pellets. These grills have both a firebox and a hopper which is the container holding the wood pellets.

Like some other BBQ grills, pellet grills work with a clever temperature control. When the grill cools down, more wood pellets are dropped automatically into the firebox and creates more heat and smoke.
A pellet grill allows you to simply set the temperature and let it do its job. You usually close the lid to keep heat and smoke in. The hot temperatures will cook the outside of your steak to perfection, and the smoke will give it an excellent taste. 
On the practical side, wood pellet grills produce a small amount of ash which is collected in an ashbox or pail.
Pellet Grill Brands That Used To Be Made In The USA
Before we get into the details on the products still made in America, it's worthwhile looking at some pellet grill brands that used to make their products in the US, and why they pulled out. 
Traeger Grills
Traeger is one of the best established and longest pellet grill brands in America. Their grills were originally manufactured in Oregon, until 2006 when the Traeger family sold the business.

In the same year, the patent on their pellet grills and smokers, which was in place since 1986, ran. In addition to that, more and more brands and different makes of pellet grills entered the market so Traeger struggled to keep up with the competition. 
All this compelled Traeger to move their manufacturing facilities abroad to China to allow them to expand the business and make a product at a much more affordable price. 
Grilla Grills
Another brand that moved their manufacturing abroad is Grilla Grills. Although a much smaller American company, Grilla Grills have been producing metal items in Michigan for over 40 years. With their metal processing facilities, it was a natural move for them to make pellet grills.
Initially, Grilla Grills' pellet grills were made 100% in the USA for the first few years. While customers loved their pellet grills, the price of their grills was simply not low enough to get to customers who couldn't afford to spend more.

This meant Grilla Grills had to move the production of their grills abroad to create a more affordable product, and allow the company to grow. However, some of the accessories are still made in the USA.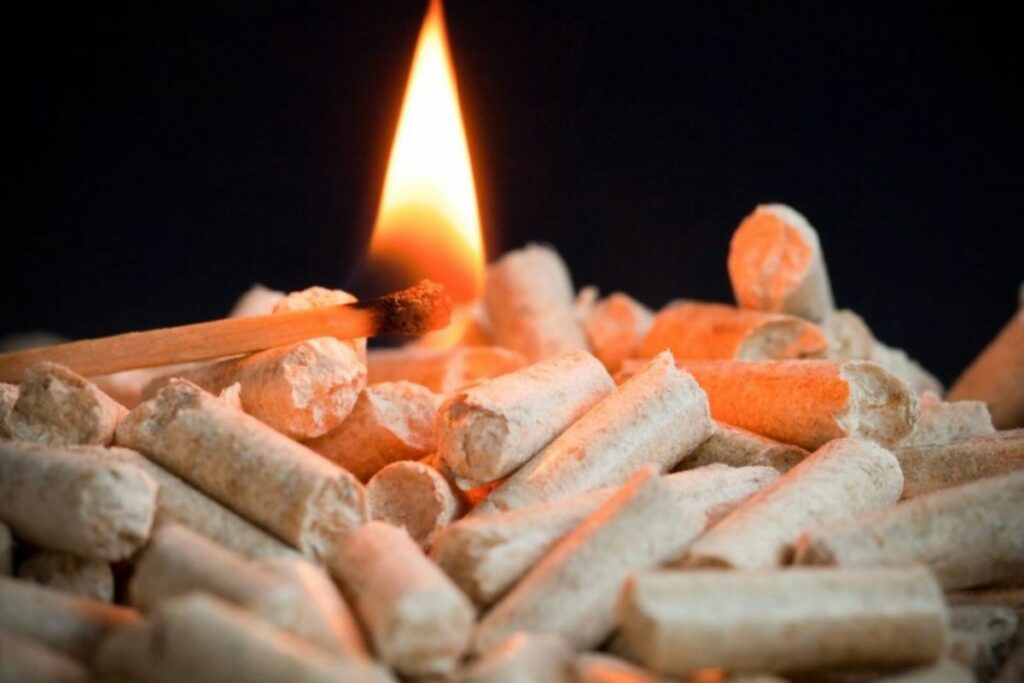 Pellet Grills Made In The USA
Here is our list of the best American pellet grills. It's good to keep in mind that circumstances can change, as seen in the example with Traeger and Grilla Grills, but we hope these good quality pellet grills will continue to be made in the USA.
Weber Pellet Grills And Smokers
Weber is the best known BBQ brand in America. Their pellett grills are made in the Chicago suburbs. However, they state on their website that they use 'US and globally sourced components' which means that Weber aren't quite clear on whether their facility in Chicago is just an assembly line or the pellet grills are all made there.
With Weber's SmokeFire range priced a little over $1,000, their pellet grills are much more affordable than many other brands on the BBQ market. We might never find out how exactly Weber can keep their prices low but as they are the largest manufacturer of BBQ items, they might just achieve this through sheer scale.
This is the second generation of Weber's SmokeFire pellet grill range. The typical Weber porcelain-enamel finish helps to prevent rusting and cracking at high temperatures.

The dual grilling space boosts over 1,000 square inches so plenty of room for your steaks. The Weber SmokeFire EX6 comes with Weber Connect smart features which allow you to easily connect via wifi.
Pros:
Good temperature control
Easy to use Wi-Fi connection
Sears and smokes at 200-600°F temperature range
Cons:
Ensure to install pellet slide correctly to avoid grill fires
Smokin' Brothers Pellet Grills And Smokers
Launched in 2008, family-run business Smokin' Brothers is based in Southeast Missouri. Their drive to make pellet grills was born out of hosting many family gatherings and joining BBQ competitions.
Three years after they started, Smokin' Brothers developed their very own pellet grill range. They have some interesting pellet grill designs offering traditional style pellet grills as well as premium plus models with a hopper positioned at the front. Smokin' Brothers also introduced a commercial pellet grill range for business use.
The Smokin' Brothers traditional BBQ grill has plenty of space for steaks and BBQ with 792 square inches cooking surface. The digital control dial also includes a cool down cycle which gives you more control over your BBQ timing.
Pros:
Sleak design
Plenty of space for family BBQ
Cool down cycle
Cons:
Additional shelf space needs to purchased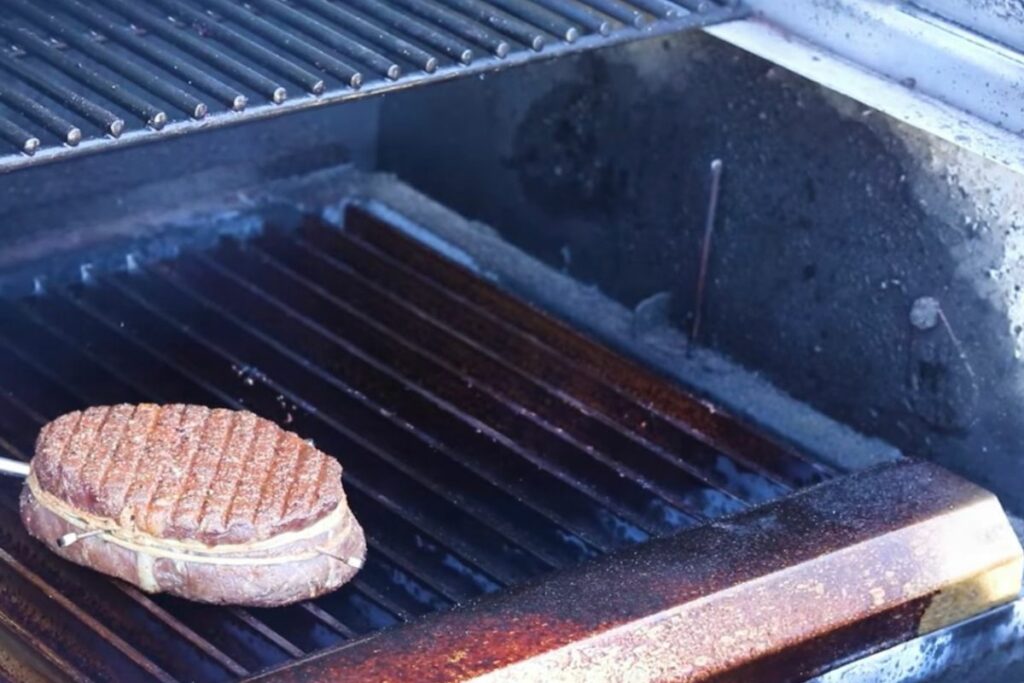 Blaz'n Grill Works Pellet Grills
The foundation of Blaz'n Grill Works was laid in the 70s when the owner and founder of the business start in metal fabrication. He launched Blaz'n Grill Works in 2011 to produce residential wood pellet grills in Beatrice, Nebraska. 
As with many other pellet grill brands made in the USA, they started with competing in BBQ competitions, and then decided to develop their own pellet grill design. To this day, Blaz'n Grill Works pride themselves on making 100% of their pellet grills in America.
They have a large range of BBQ accessories and customization options for their pellet grills, including a direct sear option with GrillGrates. These can make a big difference to many pellet grills, especially budget grills under $500.
The Grand Slam pellet grill is Blaz'n Grill Works most popular model. This pellet grill comes with stainless steel roller grates, durable powdercoat finish and an easy to clean burn pot.
Pros:
Ideal for short and longer cooking
Large 30lb hopper
Long lasting and durable
Cons:
Can be difficult to get going when cold
Mak Grills Pellet Grills
Veteran-owned family business Mak Grills is based in Dallas, Oregon. Their background is in steel fabrication but after the financial crisis in 2008, they decided to turn their passion for backyard BBQ into a new product range with high-quality wood pellet grills. 
Before they jumped into manufacturing pellet grills, the Mak Grills family spent over a year doing research on what pellet grill owners want, and they used this feedback to design their own range of wood pellet grills and smokers. 
This is probably also the reason why they chose to set their pellet grills apart from the competition by only using premium materials. For example, they use the highest grade of stainless steel for their products.

Even the lowest spec pellet grill in their range can achieve up to 600 degrees, whereas the typical budget pellet grill can manage a maximum temperature of 450-500 degrees.
Now a standard feature on pellet grills, Mak Grills were one of the first to use a wifi integration and long-lasting ceramic fire igniters in their grills.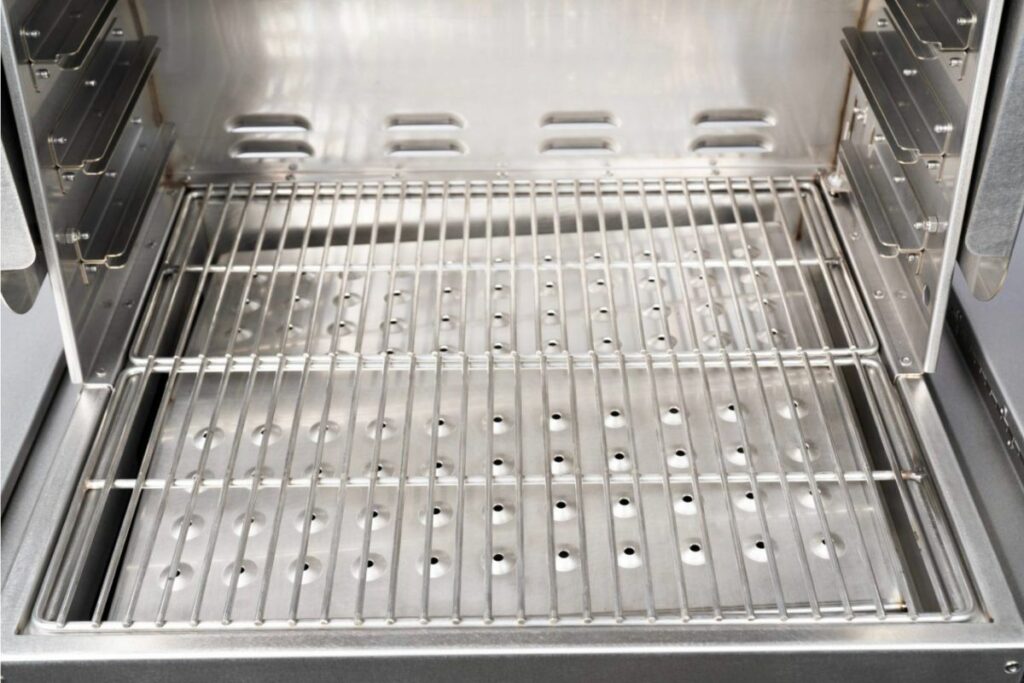 The Two Star General pellet grill from Mak Grills uses a funnel FlameZone system that reduces pellet consumption and helps with temperature recovery in cold weather.

The two star wood pellet grill also has a warmer/smoker box that holds food at serving temperature. Mak Grills also proudly say that their "Two-Star General Grill is hand-assembled in Oregon using locally-sourced 304 stainless steel, from the body to the hardware." 
Pros:
Pellet grill igniter comes with a lifetime warranty
Easy assembly with only two leg panels
Classic black high temperature powder coating
Cons:
More expensive than other brands
Yoder Smokers
Yoder started out in Kansas in 2008. As their products are made from 14 and 10 gauge steel, their pellet grills are amongst the most heavy-duty grills on the market today.

Unfortunately, this also makes them one of the heaviest pellet grills to buy. Even their lightest wood pellet grill reaches 255 pounds. This means that customers have to consider if they need to move their pellet grill around a lot.
But Yoder smokers are not only appealing because of their heavy-duty construction. Their pellet grills are much more versatile as they boast convection oven performance. They can also grill and sear, and Yoder was one of the first BBQ manufacturers to offer direct flame grilling. 
Just like Mak Grills, Yoder also offers the more durable ceramic igniters in the base of the pellet firepot, as well as PID temperature control panels and wifi integration. 
The Yoder YS640S pellet grill comes with a large cooking surface, but the real advantage of this grill is in its construction. Made of heavy and durable thick steel, this wood pellet grill holds temperatures better than some of the competition. It can also be set up for direct flame grilling for a much more authentic BBQ experience.
From searing a steak at 700 degrees Fahrenheit to a 12-hour smoke, with this American-made pellet grill you can control everything from your mobile. Their app also includes smart programs and delicious recipes. 
Pros:
Over 1,000 square inch cooking surface
Holds temperature very well
Extensive temperature control features through your phone
Cons: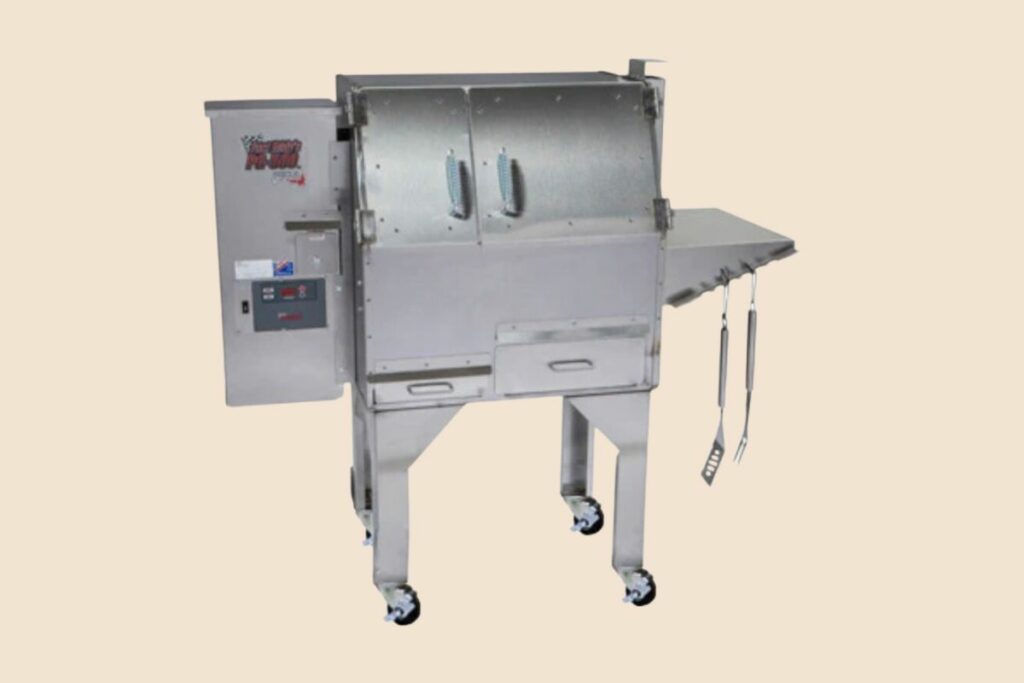 Cookshack Pellet Grills
Based in Ponca City, Oklahoma, Cookshack has been making electric smokers since the 1960s, but they really become popular with the partnership with Ed Maurin, also better known in the BBQ world as 'Fast Eddy'. He helped the company to develop their range of wood pellet grills. 
Cookshack has two pellet grills: the PG500 and the PG1000, both residential pellet grills made from stainless steel. Cookshack's wood pellet grills have four cooking zones, where the hottest is directly above the pallet fire.

The smoke and heat are then carried to the upper rack above which can be used as the second cooking area. The flexible design with pull-out grates makes this a truly versatile piece of BBQ equipment.
The PG500 pellet grill is Cookshack's smaller residential grill featuring charbroiler technology that allows you to cook over direct fire. The stainless steel body is designed with front opening doors so you can easily remove the ash. 
Pros:
Leaves only 3% ash behind
Temperature up to 600° Fahrenheit
Excellent grill and smoking quality
Cons:
Expensive
No temperature controls via phone
Twin Eagles Pellet Grills And Smokers
Twin Eagles' pellet grills are made in California, and although they are on the expensive side, they are the best pellet grills and smokers available on the market at the moment. Twin Eagles use the highest quality 304-grade stainless steel for the outer bodywork of their wood pellet grills.
They are also the most computerized pellet grills on the market, with a large control panel giving you full access to color images of recipes and cooking settings. The wifi integration, together with the app and control screen all make the Twin Eagles pellet grills so easy to manage. 
A great feature to have with these pellet grills is their integrated rotisserie kit. You can also replace the center grease tray insert with a ceramic briquette insert or a charcoal insert to give you more heat. 
These pellet grills offer you the highest maximum temperature at 725 degrees Fahrenheit of indirect heat. If you use the ceramic briquette and charcoal insert, you can even achieve a cooking temperature of 1,000 to 1,500 degrees Fahrenheit. This is the highest grilling and searing temperature of any pellet grill on the market to date.
This wood pellet grill from Twin Eagles may be the only pellet grill in their range but it certainly comes with some impressive features. The large touch screen gives you instant access to everything you need to control the grill.

You can also connect it to your Wi-Fi network and control it via your phone or tablet. Twin Eagles' pellet grill offers the highest cooking temperature of a pellet grill on the market, so you can cook for all the family.
Pros:
Extra high temperatures for the best grill and searing results
Large touch screen controls
Manage recipes and cooking settings from your phone
Cons:
Frequently Asked Questions
Are Wood Pellet Grills Worth It?
If you want to combine different cooking and baking methods with grilling, then pellet grills are definitely worth the price. Your average grill is fine when you simply want to cook a burger or steak but if you want more from your BBQ experience, wood pellet grills are a great option.

They offer you much higher temperatures and better temperature control. This makes them perfect for broiling corn or vegetables, smoking your favorite fish as well as baking cakes. 
But wood pellet grills are not only a versatile piece of BBQ equipment but they are also less expensive long term. Pellet grills are usually the same size as gas grills and they offer similar features but they come in at roughly half the price of their gas counterparts. 
The wood pellets for these grills are roughly the same price as that of gas, though usually they last much longer which helps you save money over time. Pellet grills are also more affordable than charcoal grills, and much more environmentally friendly.
Can You Use Wood In A Pellet Grill?
It's important that you use only food-grade wood pellets for cooking with your pellet grill. Some manufacturers advise that you can also use heating pellets, which are usually used in wood-burning stoves, but these pellets might put out too much heat for the grill to work properly.
Good wood pellets are made from trees that are chipped, milled and heat compressed into small pellets. This is what makes them so great for smoking as they hold this wonderful woody flavor. It's best to buy hardwood pellets that have been kiln-dried and heat compacted with no binders are fillers.

These wood pellets burn cleaner, faster and make your cooking much more efficient. They are also more environmentally friendly as they don't use any toxic materials to hold the milled wood together. 
It also matters what type of wood your heating pellets are maade from. Woods like spruce or pine won't give your food the nice smoking flavor you want. You also want to avoid using wood products made from particle board or plywood as they contained binding agents which make your food taste sour.
Wood pellets aren't manufacturer specifically for cooking or mind, so there are currently no stands as to what counts as safe pellets for wood pellet grills. That's why, it's best to look out for non-toxic pellets as these are only compacted with heat and contain no harmful substances.
Does Food Taste Better On Pellet Grills?
Opinions are still divided over whether food tastes better on pellet or charcoal grills. Some prefer the much richer and deeper flavor offered by charcoal grills, while others swear by the natural wood flavoring of wood-fired pellet grills. It's worth trying out both to find the right flavor for you and your favorite steak.
What you should consider is that each kind of wood creates its own distinct smoke, and therefore produces a unique taste for each type of food grilled.

Essentially, wood pellet grills give you a flavor like cooking or smoking over a campfire, just with much more convenience and more control over temperature so you can be sure your steak is cooked to perfection. 
If you want to try some exotic flavors, you can give different wood varieties a go. There are wood pellets made from the wood of apple, cherry, oak and pecan trees available to give your food an extra unique taste. 
No matter what you want to cook, wood pellet grills can manage almost anything. As these grills use convection heating rather than the direct heat, you can not only cook or sear meats but also slow roast, smoke meat or bake. Some people even use their wood-fired pellet grill to make bread.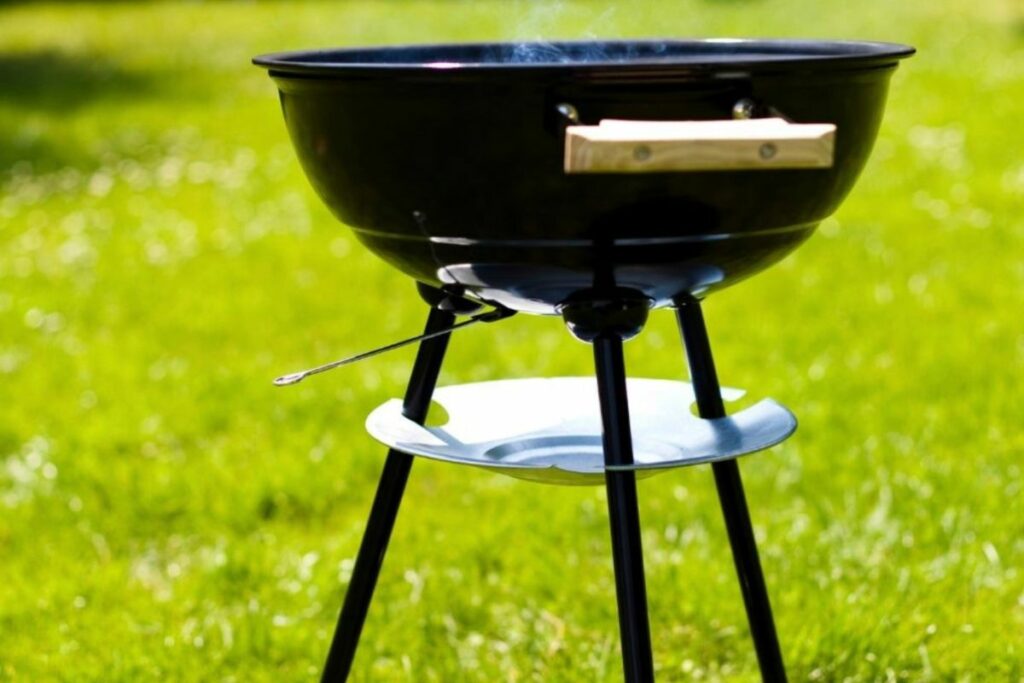 Why Buy Pellet Grills Made In The USA?
There are a lot of pellet grill brands and companies that have moved their manufacturing facilities to China and other countries outside the United States.

Some American pellet grill brands still make their quality BBQ equipment in the USA, while others produce pellet grives abroad in order to keep their product price affordable for customers, or to expand into different countries and other markets. But why would be the manufacturer's location influence your buying decision?
Help To Improve American Job Opportunities
When you choose brands that manufacturer in the US, you naturally contribute to keep someone going to make your product. This means you help to keep someone in a job. Your purchase can make all the difference, especially for smaller, local businesses that have to compete with larger international corporations.
High-quality Products Made In The USA
American standards of quality are much higher than in many other countries where companies are allowed to cut corners with cheaper materials or a more flimsy design.

This means that you likely end up paying more for your product if it's made in the USA because it's much higher in quality. However, this also means a good-quality product is much more reliable and can last much longer.
Avoid Child Labor And Improve Workers' Welfare
None of us would want to buy products made with forced child labor or produced by workers who live in unsafe conditions. Unfortunately, this is often a risk when buying foreign-made products.
In contrast, factories in America are carefully regulated to ensure safe working conditions for everyone in a company. Stringent legal processes also make sure that employers do not take advantage of their workers.
Boost The Economy
When you buy a product that was made abroad you are sending your hard-earned cash to a foreign company. This means you basically support another country's economy, instead of America's economy.

When you buy products, such as pellet grills, made in the USA you can boost America's economy and create jobs for future generations.
Latest posts by Mark Peters
(see all)