I grill, therefore I am – Alton Brown 
Anyone who has ever fired up a barbecue knows that grilling isn't just a part-time hobby and an idle pursuit that we turn to on the weekends and lazy, summer evenings.

It's a full-time preoccupation that gets under your skin, makes you want to up your barbecuing game, and develop and master the culinary skills that elevate you from humble amateur to seasoned smoking veteran.

We know how infectious and all-consuming grilling can be, we've been there and just like you, we happily and willingly dedicated our downtime to the hobby that eventually became our life.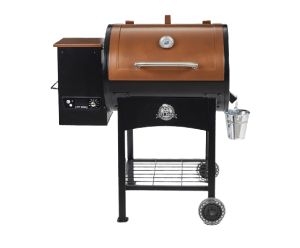 Do we have any regrets? Absolutely not, because if we hadn't thrown our hats, and ourselves, into the grilling ring we wouldn't have found, or been able to answer our calling.

And, as you're here searching for the perfect grill to facilitate your own smoking and barbecuing adventure, you know exactly what we mean. But when that search eventually comes down to having to choose between two of grilling world's heavyweights, Traeger and Pit Boss, how do you know which way to turn? 
Is it worth paying the premium price tag that a Traeger grill will inevitably demand, or do you go with Pit Boss and their blue-collar, tried, trusted, and true grills that were designed and built to fit the average American family budget?

On paper, it seems like a no-brainer, but as you probably already know, there's more to finding the perfect grill than the greenbacks that you'll initially be asked to lay down for it. 

And that's why we're here, to help you to decide whether you want to enter the Pit or join the Traegerhood by pitting both brands, and three of their most popular grills against each other to find out who rules the grilling roost and which smoking and barbecuing path you should take… 
In The Beginning… 
Every story has a beginning, and the more that you know about both brands, the easier it'll eventually be to make the choice between them. So let's start by taking a brief look at how and when Traeger and Pit Boss made their initial mark on the grilling world, before setting them against each other in a showdown for the grilling ages…
A Beautiful Day In The Traegerhood
We're going to start with Traeger because, without them, pellet grilling wouldn't exist.  Joe Traeger, the driving force behind the brand that invented the technology that made pellet grilling possible in 2005, and having seen how ruthless the world of business could be, he patented his system a year later and started Traeger Grills. 
That patent meant that Traeger was the only company who could design and manufacture pellet grills for the next two decades and that twenty-year head starts on their rivals resulted in Traeger becoming synonymous with pellet grilling, and the name that everyone would inevitably turn to if they wanted to cook with wood rather than charcoal or gas.  
Why choose Traeger? Because they started the pellet grilling revolution, they led the charge and they're still at the forefront of the smoking and grilling with the wood world, and there's no one who knows as much about it as Traeger does.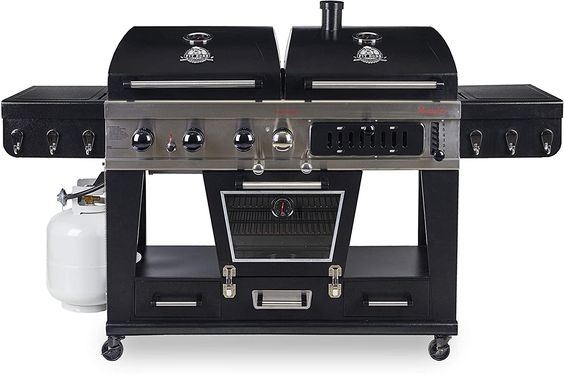 Meet The (Pit) Boss 
Or rather, no one used to know as much about pellet grilling until Pit Boss arrived on the pellet grilling scene. Even though they initially started making grills in 1999, Pit Boss who are part of the Dansons family of companies made headline news in 2018 when the founder of their biggest rival, Traeger Grills, sold his family-owned company and joined Dansons. 

The man who made pellet grilling possible, Joe Traeger, is now in charge of Pit Boss, and is directly responsible for overseeing the development and creation of every Pit Boss pellet grill. 
So why should you choose a Pit Boss grill? Well, as the man who invented the first pellet grill is now, ostensibly, in command of the brand and can reveal all of his barbecuing secrets to their engineers and development team, it's only a matter of time until Pit Boss knocks Traeger off the top of the pellet grilling mountain. 
Drawing The Pellet Grilling Line In The Sand
As far as history is concerned, it's almost impossible to choose one brand instead of the other, as they've both forged sterling reputations in their chosen industry and changed the face of grilling forever.

Having said that, it's time to look at the way they make and market their grills in an attempt to find out if there's a definitive winner in the battle of the pellet grills. 
Durability
If you're going to pay what could amount to a King's ransom for a pellet grill, then you're going to want to know that your money has been well spent, and the grill that you've just purchased won't fall at the first hurdle and will last for more than one or two summers.

The good news is, both Traeger and Pit Boss fashion their grills from solid, powder-coated steel, and use porcelain coating on their cooking racks and shelves. 
The bad news is, that as they use the same manufacturing base and materials to make their grills, there really isn't any way to categorically choose which of the grills will last longer. They're made from the same steel, and they're both made in the same place. 
It's Getting Hot In Here
The hotter a grill gets, and the more useful it can be to an amateur chef, but as both Traeger and Pit Boss's machines max out at around five hundred degrees Fahrenheit, they bring the same level of heat to the grilling competition. 
And while Pit Boss' grills have the added advantage of a side open sear plate which makes it possible to grill with direct heat instead of just the indirect heat that every Traeger grill uses, it's canceled out by Traeger's more precise temperature control.

Which means that when it comes to turning up the heat that you're going to grill and cook with, the playing field is pretty much even. 
You Can Cook How Much? And For How Long?
There's no way to escape the fact that Trager's top-of-the-line pellet grill offers thirteen hundred square inches of cooking space while Pit Boss' similar model only provides eleven hundred. 
And, there's also no way to avoid the fact that Pit Boss' hoppers (the part of the grill that holds the wood pellets that they use to make heat) often dwarf those that come as standard with Traeger Grills. 
As that equates to one point each, it means that Trager and Pit Boss are still neck and neck in the pellet grilling showdown and have everything to fight for, as the contest could still go either way.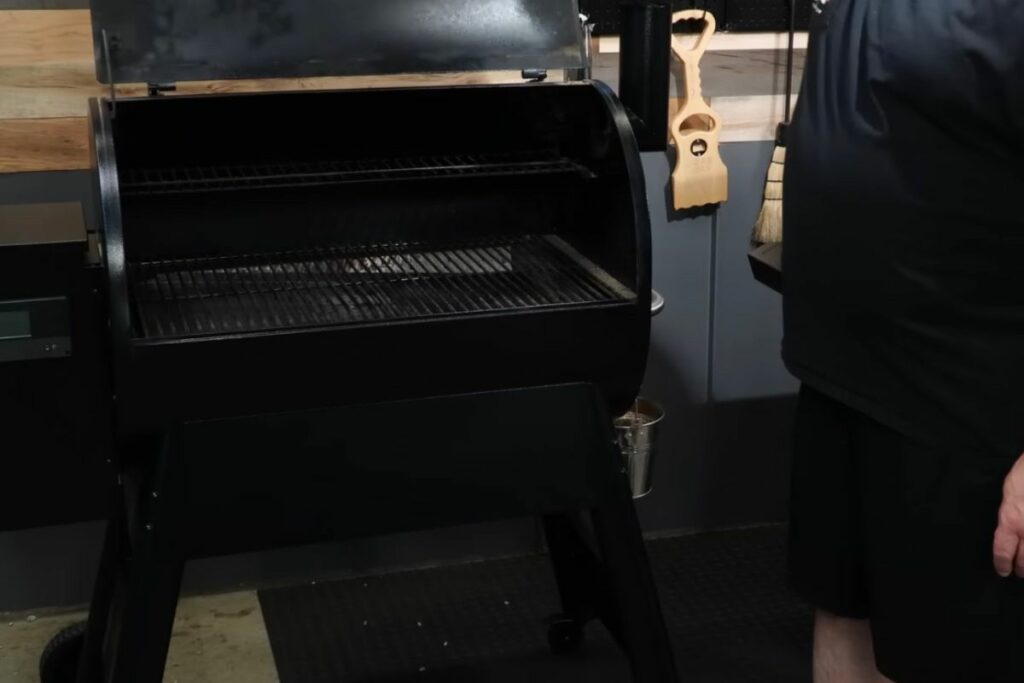 Technology And The Little Extras
Traeger developed, harnessed, and started using WiFi-enabled pellet grills before anyone else did, and their WiFire control system and grilling app are simple to understand and easy to use. 
Pit Boss, on the other hand, have been reluctant to include any internet-related technology in their grills, which means that they still have to be operated manually. So, as far as making grilling life more straightforward and user-friendly in the digital age is concerned, Trager is the clear victor. 
Cost & Warranty
There is absolutely no contest when it comes to the economic damage that a pellet grill will do to your pocketbook and how long each company is willing to guarantee its grills for. 
Trager has a well-founded and long-established reputation for producing incredibly expensive grills, while Pit Boss' sole mission is to make pellet grilling affordable for every American family. 

And as Traeger's standard warranty lasts for three years and Pit Boss' lasts for five, it isn't hard to see which brand reigns supreme on the financial front. It's Pit Boss all the way. 
It All Comes Down To The Grills
With Traeger and Pit Boss being tied for first place in the great grilling showdown it all comes down to the individual merits of their grills.

In order to make things as fair as possible, we thought that we'd take a close look at Traeger and Pit Boss's entry, mid and top of the range grills in an effort to try and break the deadlock and crown a winner. Without further ado, let's begin…
Entry Level Pellet Grills
Pit Boss' entry level pellet grill has seven hundred square inches of cooking space and uses an auto-feed eighteen-pound hopper to control the flow of wood pellets into the grill that makes sure that it can grill, smoke, braise, roast, bake, char-grill, sear, and barbecue for nine hours between its hopper being filled and running out of pellets. 

It doesn't just grill, it will let you unleash your entire culinary arsenal with its eight in versatility. 
The entire smoking, grilling, or whatever other methods of cooking you want to employ process is controlled from a single digital panel that allows you to set the temperature and time that you want to grill for, and then walk away and leave the 700FB to do the rest.

And as it can cook whatever you want it to, however, you want it to at anywhere between one hundred and eighty and five hundred degrees Fahrenheit, the choice of what you want to rustle up for your friends and family with the 700FB is only limited by your imagination.
While the 575 can't quite compete with the 700FB's seven hundred square inches of cooking space and can only manage to muster a mere five hundred and seventy square inches of cooking space, what it lacks in space it makes up for in technical versatility.

Like the 700FB, it uses an eighteen-pound hopper to control the flow of pellets which gives it a cooking life of nine to ten hours between fill-ups, but unlike the Pit Boss, with the Pro Series, you don't have to control the cook by hand, you can use your smartphone to monitor and control the grill. 
The Pro Series uses Traegers patented WiFire control system which means that you can use the grill to smoke, barbecue, bake, roast, grill or braise from the comfort of your armchair using only your phone.

And WiFire is now Alexa enabled, so you can also use voice control to ensure that the Pro series will smoke and grill whatever you want it to, for as long as you want to, whenever you want it to. It was made to make grilling simple and straightforward and that's exactly what it does. 
And The Winner Is
Much as we love the Pro Series, the extra cooking space that the 700FB offers, and the fact that it's far more affordable outweigh the Trager's technological advantages and make it the clear winner.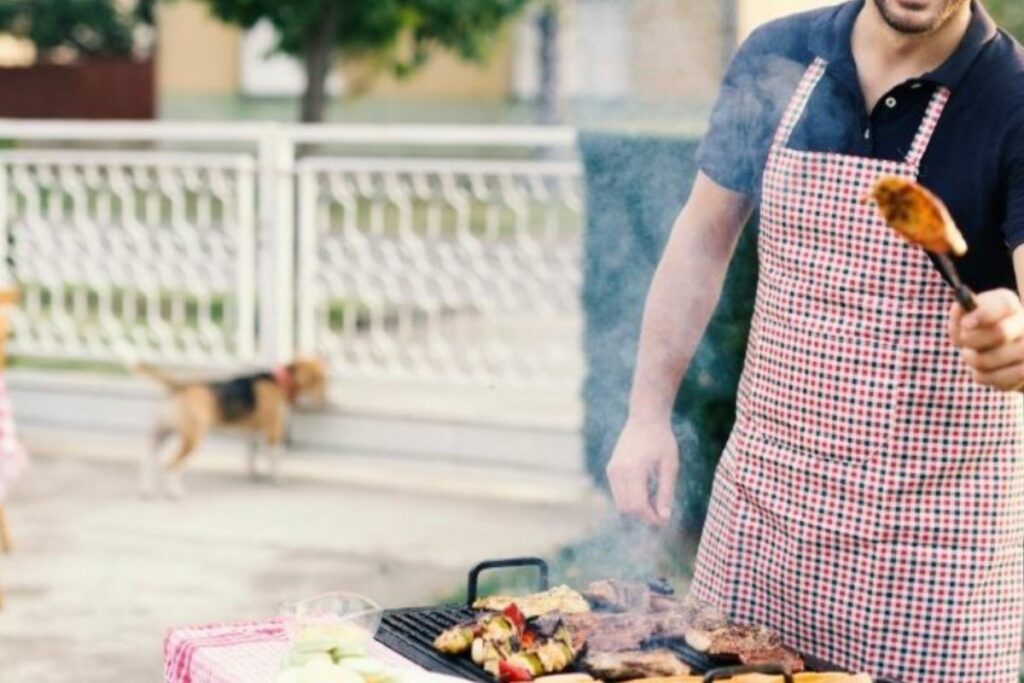 Mid-Level Pellet Grills 
This incredible pellet grill has eleven hundred square inches of cooking space (which can easily be increased to sixteen hundred)  and uses a thirty-pound hopper to deliver all the pellets that it needs to smoke and grill with.

And just like every other Pit Boss grill, you can use it to cook in eight different ways for up to fifteen hours before you need to refill the hopper. 
It'll cook however you want it to, providing you choose one of the eight different culinary methods of preparation that it can be fired up and used for, at anywhere between one hundred and eighty and five degrees Fahrenheit and every moment can be monitored, tweaked, and altered from the digital panel control panel.

But the thing that we love best about this grill, is that if you choose to cook with direct rather than indirect heat, you can turn it all the way up to one thousand degrees Fahrenheit, and increase the power to cook anything you want to in the blink of an eye. 
The problem with the Sportsman is that when you compare it to the Ironwood, it's like test driving an F-150 and then getting behind the wheel of a Mustang.

Yes, it's big and powerful, but it doesn't have the grace and precision that the Ironwood does, which uses a twenty-pound hopper to grill, smoke, braise, roast, bake, or barbecue anything you want on its eight hundred and eighty-five square inches of cooking space. 
Bigger isn't always better, and the extra amount of control that the WiFire system that the Ironwood employs will ensure that you can effectively and efficiently deliver your precisely planned menu to your family and guests when you say you will.

The Ironwood is a technological miracle that encourages you to embrace the digital age and step into the modern age of grilling. 
And The Winner Is
Yes it costs more, yes it has less cooking space, but the way the Ironwood grills ensures that it rompers to victory in the mid-level challenge. 
The High-End Grill Challenge
When you push your Pit Boss budget to its absolute limit, you end up in Navigator territory and the biggest, baddest Navigator pellet grill that they make is the 1150.

It uses a thirty-two-pound hopper to feed the grill which has eleven hundred square inches of cooking space and can be used to grill, smoke, bake, braise, roast, char-grill, sear, and barbecue anything that you fit under its under for up to sixteen hours at a time. 
And the whole cooking process can be set in motion and monitored from the single digital control panel that the Navigator is fitted with. It's simple, efficient, and was designed to make your grilling life as easy as it could possibly be.

Just load the chamber, set the timer and temperature, fill the hopper, push start, and walk away and let the Navigator take charge. 
Then there's Traeger's top of the line grill, the Timberline 1300. With thirteen hundred square inches of cooking space, a twenty four pound hopper, and the six-in-one versatility, and WiFire control that every Traeger grill worth its salt uses to make life simple, the Timberline is literally in a grilling league of its own. 
It's Traeger's high-end, supercharged grilling model that comes with more bells and whistles than we could hope to list in a day, and will make your grilling life complete. At least it will if you can afford it, because, like all of the best things in life, the Timberline is reassuringly expensive. 
And The Winner Is
The Timberline's high-end functionality is blunted by its staggering cost, while the Navigator's incredible appeal is hampered by its refusal to enter the digital age. Which means that in the high-stakes grilling game, Traeger and Pit Boss cross the finish line at exactly the same time. 
Traeger Vs. Pit Boss – The Final Verdict 
So there you have it, ladies and gentlemen, the final verdict in the Traeger versus Pit Boss showdown is that the contest is a draw. Which grilling path should you follow?

Which one was made for you to follow? The Pit Boss way or the road to the Traegerhood? Unfortunately, as the contest was a dead heat, that's a question that only you can answer. 
Latest posts by Mark Peters
(see all)