Some occasions call for a massive barbecue and smoker that can grill an entire brisket and 3 chickens in the same go.
The kind of barbecue that buries its roots in your backyard and doesn't move until it has all rusted and has bits falling off it. Other occasions or situations need something a bit different.
If you're more on the go and like to take your equipment with you, then what you want is something like the Traeger Ranger: a compact piece of kit that can come with you on any journey.
Traeger is a recognizably premium brand, that has made a name for itself for creating high-quality kits that give you everything you ask for and more.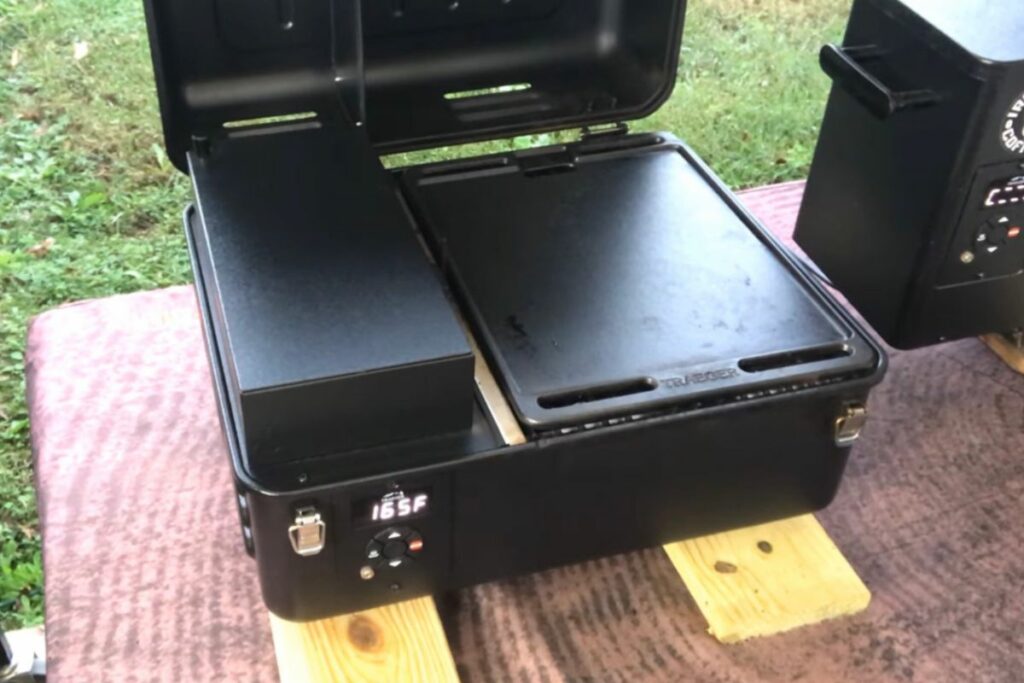 When it comes to the Ranger, Traeger has spared no expense in crafting a great portable barbecue that should your every need.
For the rest of this article, we will run down all the elements of the Traeger Ranger so that you can decide for yourself whether you think that this is a piece of kit that works for you or not.
Design
For some people, the style of their barbecues makes absolutely no difference, and they only care about function. However, I think that most of the time, people want 'functional' that looks good too – something that has style as well as being functional.
The Traeger Ranger looks as hefty as it feels – which is a lot. The kit has a matte black finish all around its cuboid shell, and everything you need is contained within.
This gives the kit a pretty industrial feel to it, but the black cast iron evokes the truth of its heavy-duty nature. No, the Ranger isn't going to win any awards for its appearance but I think you'll find that its specific design is incredibly functional.
Due to the fact that everything is contained within its shell, there are no extraneous bits and bobs that could get damaged or lost when on the move. This is exactly what you want when designing a portable barbecue.
Unfortunately, the one complaint that people have is that the rubber feet are prone to fall off, and so a few reviewers recommend finding replacements or alternatives if you choose to pick up the Ranger.
Speaking of picking up, you may also find it difficult to maneuver the Ranger or lift it up onto high shelves for storage or onto a tall table for use.
This is because the Traeger Ranger comes in as weighing 60lbs. Yup, 60lbs of cast iron shell, grill, and griddle, that come together to make an extremely durable piece of equipment, that can survive whatever the elements decide to throw at it.
However, this does mean that you'll probably struggle to "pick it up and go", no matter how good the sturdy top handle is.
Function
The Traeger Ranger is a pellet smoker, which means that it burns small wooden pellets that are fed into a firepot that produce both heat and flavored smoke in order to cook your meat perfectly whilst also imbuing it with whatever smokey flavor that you choose.
When most people think of pellet smokers, they think of big, heavy-duty machines that reside on a patio all year, but this little suitcase serves the same function at a fraction of the size.
This barbecue boasts an 8lb pellet hopper, meaning that you could get hours and hours' worth of smoking from a single top-up. It's also easy enough to remove and replace pellets once you're finished with them, or once they're completely burned up.
This model also features a cast-iron griddle you can sear or fry meat or eggs on, as well as a grill for your meat. Unfortunately, there's no open flame so you wouldn't be able to cook and caramelize a steak to restaurant standards, but you'll probably be able to come pretty close with the features available.
The Ranger is controlled via soft rubber buttons that allow you to easily set your temperature and time, and the tech inside is able to keep the temperature steady so long as there are pellets left in the hopper, or until the meat probe (that comes with the base kit) signals that the meat is done to the degree that you want it.
At that point, the Ranger is able to keep the meat warm without burning or overcooking it using its wonderful warming function.
Finally, it's worth mentioning how easy it is to clean the kit, as barbecues of all kinds have a reputation for being a real hassle to clean and maintain.
The Ranger on the other hand has done basically as much as it can to ensure, if not a simple time cleaning, at least a slightly easier time. Although it doesn't ship with a grease drip tray, these are an added option that you can purchase with your kit, or pick up at another time.
This will speed up sorting out the juices that come off your meat. As well as this, the cast iron shell and griddle can be cleaned the same way you would clean anything else that's cast iron, but the real treat is the porcelain-coated grill. The coating makes it far easier to clean, so long as you stay on top of it.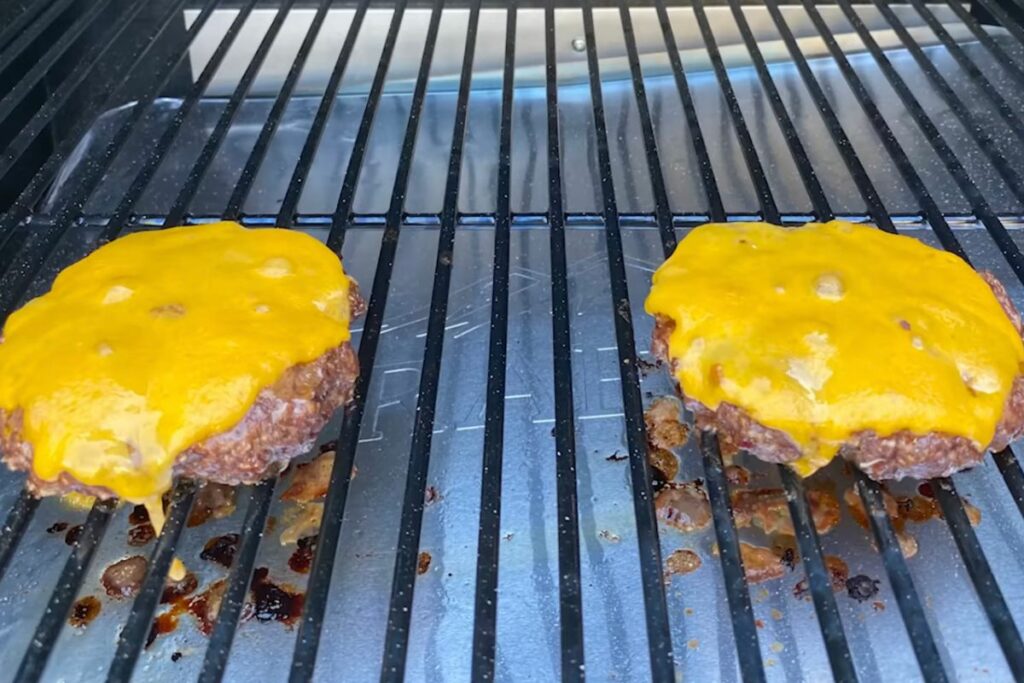 Cooking Quality
The Traeger Ranger has a 164 square inch cooking area. To put this into perspective if that number doesn't really tell you anything: you can cook two medium-sized chickens in this smoker if you wanted to. At the same time.
Now, for a barbecue, this is still pretty small, but then again, if you want to make something portable you're always going to lose out on space or capacity. The Ranger is particularly compact meaning you sacrifice some cooking space.
Combine this with the fact that it's also very heavy, and this could potentially put a lot of potential buyers off purchasing the Ranger, and that would be understandable.
A portable barbecue that isn't very portable and can't cook/smoke very much doesn't sound great, but just wait until you hear about the quality of cooks that you can achieve from this kit.
Not only does Traeger give you a large variety of different kinds of rubs and spices, but they also have an expansive range of different smoker pellets.
This means that you can mix and match until you find your absolute favorite combination for each different kind of meat.
This kind of control over the flavor can be incredibly beneficial if you're just starting out on a meat-smoking journey, as even whilst you're still figuring out the temperatures and timings, you can still pretty much guarantee a great flavor from the rubs and pellets alone.
Given that this BBQ has such a large hopper capacity, you're able to cook at high temperatures for great searing, or low for slow cooking – perfect for smoking.
Whilst testing we were able to slow-cook a smokey brisket, then when that was done we seared off 12 burgers where the keep warm mode made melting cheese on top a breeze.
Overall this BBQ has a fantastic cooking quality, even for beginners. So long as you know what you're doing (or can follow instructions properly), you'll be able to make some great food for your whole party.
The Bad Stuff
Nothing is perfect, not even this barbecue (although in my opinion it certainly comes close). There are definitely a few aspects of this kit that could deter potential buyers, and I would be remiss if I didn't mention them. So with that in mind, here's the not-so-great stuff that comes with the Traeger Ranger.
As mentioned previously, the weight of this kit can be a particular problem for some people – if you're looking for something you can just pick up and go with, then this kit might not be ideal.
With other, more portable, barbecues you would certainly lose some quality but if you're looking for something that you can easily take with you to a beach party or a picnic then you can definitely find something that can accommodate that better.
Another issue in the "portability" of the Traeger Ranger is the fact that it needs to be plugged into an outlet in order to work. A battery-powered option or at least some flexibility over how it gets power would be far more helpful, rather than this.
As it stands, you need to be able to plug the kit either into an outlet or a car, or you could also purchase a portable generator to go along with this kit, which would add a couple of hundred dollars to the already quite hefty price tag.
If you opt to plug the Ranger into your car or RV, then be prepared to need to charge the vehicle's battery, as it takes a lot of power to work the kit for the several hours it can take to properly smoke something.
Unfortunately, this does exclude a lot of potential opportunities you might have been planning to do once you get a portable barbecue, and for that reason, it may be worth skipping over this product, unless you have the means to power it wherever you go.
The final negative that you might find about this product is the fact that it doesn't come with any Bluetooth or wireless connections.
Yes, this is pretty much the epitome of a first-world problem, but some people want the best that tech has to offer. A lot of newly developed barbecues now come with a Bluetooth feature or some kind of app feature, but the Traeger Ranger is pretty old school in this area.
The reason that some barbecue manufacturers are leaning into the more high-tech features is that it makes it a lot easier to multitask and get on with other things whilst your meat is also cooking so that you don't need to stand by the kit and constantly check on your food, especially with longer smoke sessions.
This feature's absence doesn't necessarily have to be a deal-breaker but is definitely something to keep in mind.
Final Verdict
This is an absolutely amazing piece of kit that more than makes up for its heavy price tag. Unfortunately, there are definitely some things about the Traeger Ranger that could make it unsuitable for certain buyers, and it's important to be aware of them, rather than be swayed by the apparent premium of the kit.
Don't get us wrong, it is a premium piece of equipment, but that doesn't make it perfect for every buyer. If you're looking for a real pick-up-and-go option, then you'll want to look elsewhere.
However, if you're looking for a cheaper alternative to a full-size barbecue that still gives you great quality then this is probably the best semi-portable pellet smoker that you can buy, which can still come with you on adventures.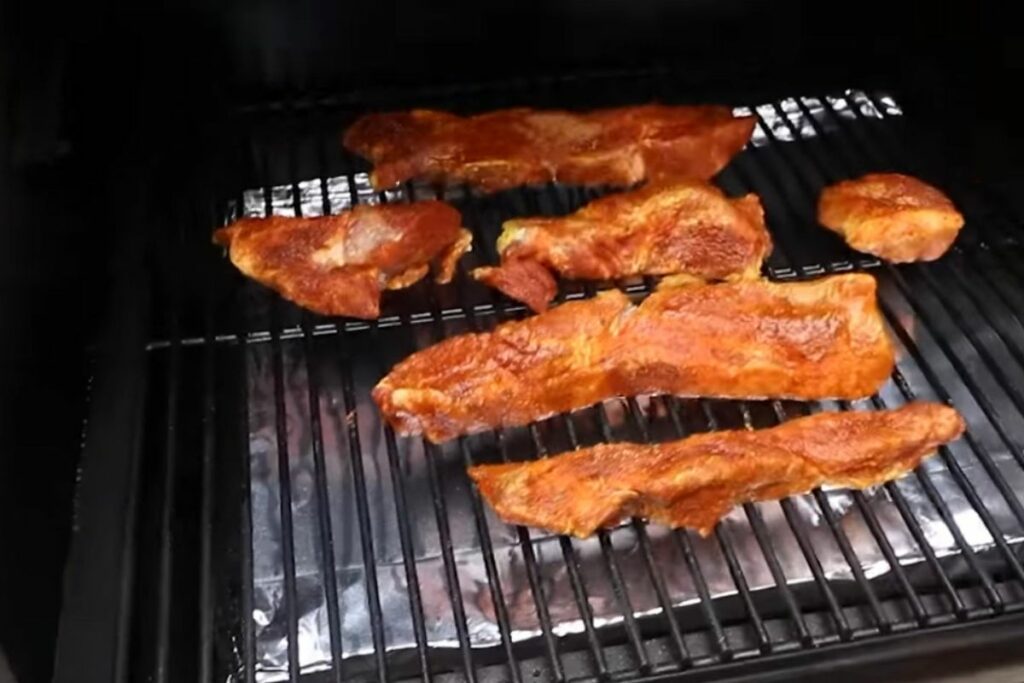 Buyer's Guide
If you're still looking for a portable smoker grill then there are a few things that you need to consider before buying – mostly exemplified through what makes the Traeger Ranger unsuitable as a portable option.
Fuel Type
If you're going to be traveling around with a grill, you're going to need to know what you need to both make it work and how to make it cook your meat.
For example, the Traeger Ranger uses pellets that last a long time and so you wouldn't need to bring lots of replacements with you, however, it doesn't work without electricity and is therefore no good for camping in the middle of the woods.
It will always be easier to cart pellets, wood, or charcoal across a longer distance than it is to move a generator or full gas tank with you if you're partying on the beach or in a forest, so you will need to bear in mind what fuels your grill before you purchase anything.
Size
Portable typically means small. Just putting wheels on a full-sized barbecue doesn't mean you're ready to take it to your cousin's pool party.
You typically want to find something that can be set on a tabletop or at the least be folded down and easily transported from place to place.
And you definitely want to ensure that check how much the thing is going to weigh before you decide to buy it, and know what you can comfortably carry.
The Traeger Ranger for example looks great and compact but weighs 60lbs, which is more than most average people can carry even a short distance.
It's really important to do as much research as you can into the kit that you want to buy to really make sure that it's something that's going to work for you and your needs.
Ease Of Use And Clean
If you're out in the wilderness or on a remote beach, then you may not have a decent connection to the internet, or you may not have remembered to bring the instructions with you.
In this case, you want to make sure that you're going to be able to use the kit properly with minimal help. This can either be achieved by being experienced with the product and having used it on multiple occasions already or by the kit being intuitive and simple to use.
When the party is waiting on you for their food, you want to know that you're going to be able to get started shortly after setting up, so finding a simplistic kit is going to really increase its value as a portable option.
The other end of this comes when it's time to clean up. The way that a product can be better to pick up and go at the end of the party or meal is by having detachable elements that can be cleaned separately instead of messing about trying to get into nooks and crannies.
Another thing that is helpful in portable products and not is to make sure that the elements are coating in something npn-stick. For example, the Traeger Ranger has a porcelain-coated grill, which makes cleaning a breeze.
Frequently Asked Questions
Does The Traeger Ranger Have A Smoke Setting?
Technically no. Whilst it's more than capable of delicately smoking a steak, there is no real setting that allows you smoke something hands-off.
So if you're wanting to use this kit as a smoker, it will require more of your attention than you're necessarily used to – however there are plenty of examples of how to smoke effectively online that you can follow.
How Do I Change The Pellets If There's No Evacuation Door?
The Traeger Ranger doesn't actually come with an evacuation door and so in order to remove the unused pellets you need to run them all through or remove them with a bucket.
The grease trap buckets are the perfect size for this, so long as you've properly cleaned the bucket out (you don't want any used grease on the pellets).
Although this can be an annoying process, it's still simple enough – and any unused pellets can be returned to storage for use an another day.
How Long Will The Ranger Cook For?
This is dependent on the temperature that you're cooking at. A pellet grill works by slowly feeding the pellets into the fire pit in order to achieve and maintain a certain temperature – the higher the temperature that you need, the faster the pellets are going to be run through.
If you're only cooking something at a low temperature, the pellets will last longer.
Low and slow cooking, starting with a full 8lb hopper, you should be able to cook for a good 8 hours. Higher temperatures and you'll have to top up the hopper more frequently or cook for a shorter amount of time.
How Do I Cool The Ranger Down After Use?
Once you've finished with your cooking session and you're ready to wind down, you'll want to make sure that you shut it off properly.
Luckily, the Ranger has a specific "shut down" setting that you can easily turn it to once you've finished. Just pop it on that setting, shut the lid, and then let the internal fan run for about 10 minutes, which will cool the kit down enough to make it safe in case there are little kids running around, and also makes it easier to crack right on with cleaning it, if you're so inclined.
Latest posts by Mark Peters
(see all)